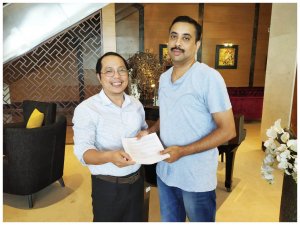 [www.inparkmagazine.com] In a significant development, Semnox has arrived at a partnership agreement with Speed POS Vietnam. As per the terms of the understanding, the latter will be Semnox's dealers in the Indo-China (Vietnam, Cambodia, and Laos).
Speed POS is a leader in the theme park solutions industry in Vietnam and ranks at the top of the POS suppliers list. With Semnox offering the only integrated ticketing and cashless management solution in the industry, this is all set to be a potent tie-up. Players in the amusement and leisure sector in these countries now stand to benefit from this strategic partnership.
"We are pleased to be associated with Speed POS as one of our partners. Asia primarily being a huge potential market for Semnox, we consider this partnership will contribute to the simultaneous growth of both organizations in this part of the world," says Kiran Karanki, director, Semnox.
Speed POS has been providing POS, PMS, and retail solutions in Vietnam since 2007. With its expertise in identifying the needs of regional clients and helping them make optimal use of their new systems right from the start, Speed POS has carved a niche for itself in the region.
"With stable, functionality, security, scalability system for ticketing and cashless management from Semnox, we can bring value to our customer to help them to success for standardized operation and sales cycle in FEC, Park business", says Luan Khanh, Director, Speed POS.
Given the unique capabilities of both Semnox and Speed POS, this new partnership is also expected to enhance the value and reach of both companies in the particular geographic region.